Q&A with Ricky Singh
Director of Pointzero Network
Ricky Singh is the director of Pointzero Network, a telecommunication cabling company that provides Maintenance and Provisioning services for Ventia. Ricky loves a good challenge just as
much as he loves leading his team into battle each day. He takes great pride in how he and his team are helping to keep New Zealand connected during a challenging couple of years that has
seen COVID-19 lock-downs and a big increase in the number of people working from home. Outside of work, Ricky has just welcomed his first baby, Ivaan, to the family. When he's not
hanging out with Baby Ivaan, Ricky likes to head into New Zealand's great outdoors for a little rugged R&R.
What is your company called, and what does it specialise in?
Pointzero Network Limited. We specialise in Maintenance and Provisioning work on the Chorus network – mainly fixing faults when they arise.
When did you start subcontracting to Ventia, and what was your first Ventia job?
We started Pointzero Network Limited in November 2018. How could I forget our first Ventia job? We needed to restore internet services for a medical centre in South Auckland, and it was huge for us at the time.
Which Ventia projects do you work across?
What kinds of other work does your company do?
We also do internal data cabling, which nicely complements our core activity of fibre.
What do you enjoy most about your work?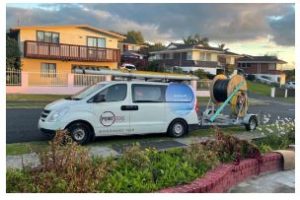 I love how every day brings new challenges, and so does my team. It's a real pleasure when we leave premises and there's a smile on a customer's face. In these modern times, where the internet is what ties us together and allows us to keep working from home, the stress people feel when disconnected is plain to see, and the relief we bring gives me and my team great satisfaction.
How many people do you have in your team, and what makes your team culture special?
We are a team of 28 people, predominantly operating in the Auckland and Waikato regions. Our team is built on a solid foundation of commitment, hard work, and perseverance. The company's most precious assets are our people. Or, to quote Richard Branson, "If you look after your people, they will look after your business." And just like Richard, we are strong believers in valuing our priceless assets.
What parts of the country are you typically working in, and what do you enjoy about the work?
We operate mostly in Auckland and Waikato, with some work in the Far North when required. We get to travel a lot around Auckland, so we're really fortunate that we get to see so many of the natural attractions and beautiful beaches the region offers.
What do you enjoy doing outside of work?
I like to spend time with family. When I'm not doing that, I love to go off-roading and camping. I also do yoga to keep the mind clear.
What did you do over the holiday break?
This holiday was a blend of work and some fabulous time with the new addition to my family. My son, Ivaan, is now almost two months old. He showed me no mercy over the holidays, with many a sleepless night, but I wouldn't trade it for anything. I love being a dad.